FRANK FORZA CURRERI MMA STORY PORTFOLIO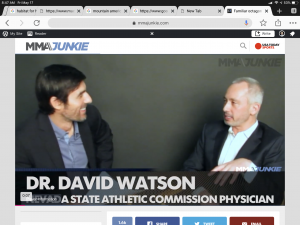 The link below features me interviewing Dr. David Watson about being a ringside and cageside physician for Ultimate Fighting Championship events and major boxing fights.
It is the only time in the past 18 years that Dr. Watson has granted a media interview to discuss his duties on the Nevada State Athletic Commission and keeping fighters safe.
The story and video interview ran on USAToday.com's front page and also on MMAJunkie.com. It has recorded hundreds of thousands of views and counting.
To watch the video and read the story, click on the link below:
https://mmajunkie.com/2017/03/familiar-octagon-face-unfamiliar-story-fighting-through-the-eyes-of-dr-david-watson
FEATURE STORIES: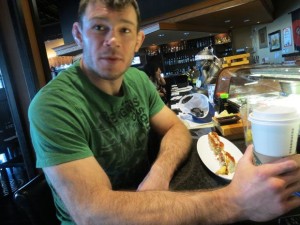 "14 Cups of Coffee Per Day? Forrest Griffin Spills The Beans," fun feature story for UFC.com:
https://www.ufc.com/news/forrest-griffin-spills-beans
"After Three Completely Torn ACL's, Dom Cruz Regains UFC Title" (in-depth 2,000+ words feature story for BleacherReport.com and CNN.com):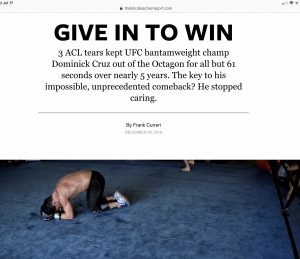 https://thelab.bleacherreport.com/give-in-to-win/
Esports is booming. One Las Vegan's hard-fought, years-long quest to bring eSports to the live betting capital of the world. (I include this story because I see many parallels between the emergence of eSports and MMA and their quests for mainstream legitimacy).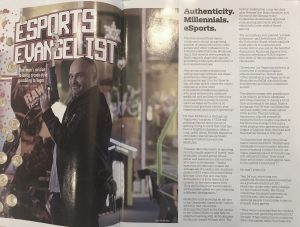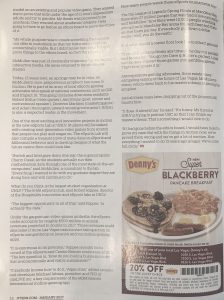 Interview with history's most famous female fighter
Link to story:
https://ru.ufc.com/news/ronda-rousey-diet
SCOOP: A real-life underground Fight Club at the conservative Brigham Young University attracted 250-300 spectators to its events. I exclusively broke the story, which eventually garnered national headlines and prompted Utah legislators to intervene.
ENTERPRISE FEATURE STORIES: 
"Twin Brother's Rare Disease Lights A Fire in Jake Ellenberger" (feature story for UFC.com):
https://www.ufc.com/news/twins-disease-fuels-ellenberger
The two biggest names in fight sport announcing, Michael and Bruce Buffer, lived for decades not knowing they were brothers. Frank wrote this exclusive about the day Bruce Buffer discovered, 'That guy on TV is my brother!'
"Roots of Dan Gable Coaching Tree Run Deep in MMA" 
If you love Gable, a wrestling legend of epic intensity, you're going to love this feature story I wrote after our two-hour interview. (Note: click on 'Continue Reading' in the paragraph below to read the story).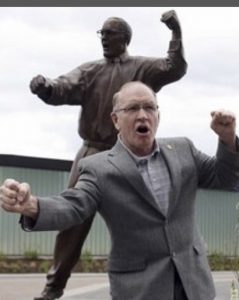 "Win One For Daddy" 
I wrote this story in 2004(ish), back when Maxfighting.com owned the greatest staple of MMA writers on the planet. A lot of people thought we were crazy to love the sport, to spend time writing stories and making virtually no money. If you love the fight sports, this story is a must-read: It shines a light on the life of undersized heavyweight kickboxer Dewey Cooper and explores how fighters cope with the death or sickness of a loved one. (Note: Click on the "Continue Reading portion of the paragraph below to read the story). 
"Athletes & ACL Tears: Fully Recovery The New Normal" (byline for UFC.com):
https://www.ufcespanol.com/news/new-norm-acl-tears-gsp-rebounded-expect-same-cruz
"Ian Loveland: Big Fish In The Big Time": fun feature story for UFC.com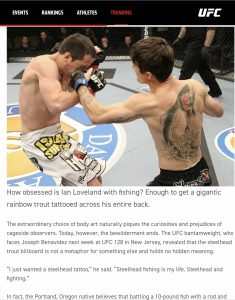 https://www.ufc.com/news/ian-loveland-big-fish-big-time
"The Death of Lil' Evil & The Resurrection of Jens Pulver" (feature story originally posted on UFC.com):
http://frankcurreri.com/death-lil-evil-resurrection-jens-pulver/
"The Cemetery Life: Richard Abraham and the Power of 'Here Lies An Unknown Soldier""
Story link: https://www.frankieforza.com/cemetery-life-richard-abrahams-power-lies-unknown-soldier/
VIDEO INTERVIEWS & COMMENTARY: 
Link to watch:
https://www.dropbox.com/s/ycq0j6731o5wric/CoutureEarsAge.MOV?dl=0
Emotional interview with MMA fighter David Branch, a New Yorker and former iron worker, after finally winning a world title. 
https://youtu.be/GqwSiQAVvf0
One-on-one with hilarious former UFC champion, former police officer and two-time New York Times best-selling author Forrest Griffin:
What is the most serious injury you've ever had? Inside the mind of former Cirque du Soleil performer Alvin Tam.
Inside the 'Go for Broke' Mindset of UFC Champion Miesha Tate
(WARNI: This conversation with Miesha Tate contains explicit language and is solely intended for adults age 18 and older).
Las Vegas trainer extraordinaire Clark Anderson (52 years young) and myself have a conversation about how to defy Father Time, especially trying to defeat that voice in your head that says, "You're too old for ____…. your best years have passed you by." 
PODCAST: Dr. Brooke Conway Kleven, a 28-year-old physical therapist and mother of two, talks with me about dual doctorates, mental toughness and surviving three brain surgeries 
https://open.spotify.com/episode/326cwEtevyIMfIwJWmnCKw
Fight Analysis: Four big mistakes that led to star fighter Sage Northcutt's shocking and dramatic loss vs. Cosmo Alexandre. 
https://youtu.be/m8KCNcI39jQ
DEADLINE/LIVE EVENT STORY: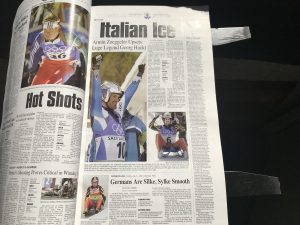 WEC live Deadline Event Story: "Varner Retains Lightweight Title But Leaves Door Open for Cerrone Rematch (byline for WEC.com & UFC.com)
https://ru.ufc.com/news/varner-retains-lightweight-crown-leaves-door-open-cerrone-rematch
Deadline WEC 44 live event story: Jose Aldo Dethrones Mike Brown (story ran on UFC.com)
https://www.ufc.com/news/and-new-aldo-dethrones-brown-wec-44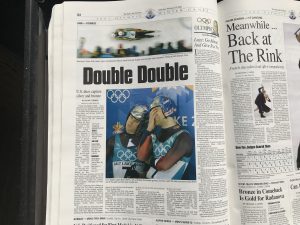 COLUMN: "Hail To Chael" after epic first fight vs. Anderson Silva (post-event column for UFC.com):
https://www.ufc.com/news/hail-chael
Olympic Games: Germany's Sylke Otto Finally Grabs Gold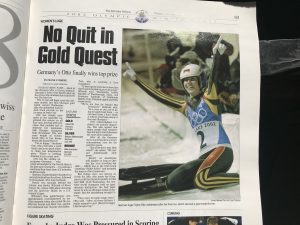 Justin Gaethje Credits Punching Power to Copper Miner and Mexican Roots