FRANK FORZA CURRERI STORY PORTFOLIO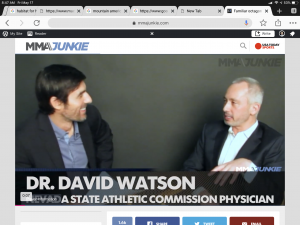 The link below features me interviewing Dr. David Watson about being a ringside and cageside physician for Ultimate Fighting Championship events and major boxing fights.
It is the only time in the past 18 years that Dr. Watson has granted a media interview to discuss his duties on the Nevada State Athletic Commission and keeping fighters safe.
The story and video interview ran on USAToday.com's front page and also on MMAJunkie.com. It has recorded hundreds of thousands of views and counting.
To watch the video and read the story, click on the link below:
https://mmajunkie.com/2017/03/familiar-octagon-face-unfamiliar-story-fighting-through-the-eyes-of-dr-david-watson
FEATURE STORIES: 
Female chess phenom crashes all-boys club — earns full scholarship to University of Texas.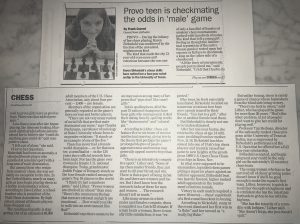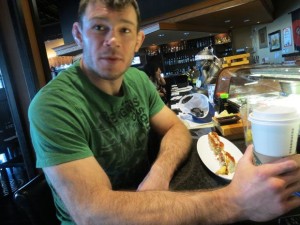 "14 Cups of Coffee Per Day? Forrest Griffin Spills The Beans," fun feature story for UFC.com:
https://www.ufc.com/news/forrest-griffin-spills-beans
"After Three Completely Torn ACL's, Dom Cruz Regains UFC Title" (in-depth 2,000+ words feature story for BleacherReport.com and CNN.com):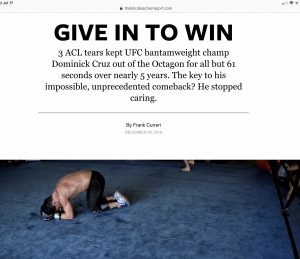 https://thelab.bleacherreport.com/give-in-to-win/
Esports is booming. One Las Vegan's hard-fought, years-long quest to bring eSports to the live betting capital of the world.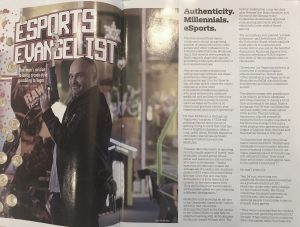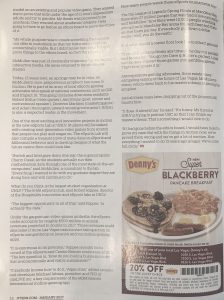 Olympic Games: Germany's Sylke Otto Finally Grabs Gold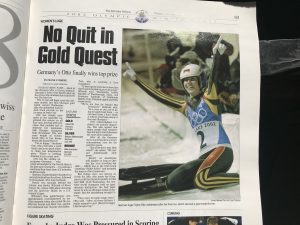 Interview with history's most famous female fighter
Link to story:
https://ru.ufc.com/news/ronda-rousey-diet
'Police officer masters the beat and the court': Night shift cop Shanda Berry, 6 feet 3 inches tall, moonlights as a player for the American Basketball Association women's professional league.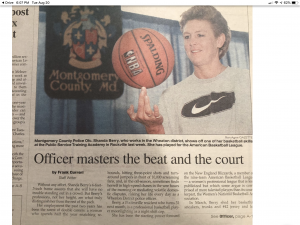 SCOOP: A real-life underground Fight Club at the conservative Brigham Young University attracted 250-300 spectators to its events. I exclusively broke the story, which eventually garnered national headlines and prompted Utah legislators to intervene.
"FOOTBALL STORIES: 
Arena Football League: Raterink's Resurgence Fuels Franchise's Defiance
By Frank Forza Curreri
Outside of Las Vegas Outlaws players and coaches, you won't find many people who expected the first-year franchise to gel and excel this early – sporting a 2-1 record and owning a share of first place in the West Division. Who would have predicted J.J. Raterink, leader of a 3-15 team last year, being on blistering fire and performing at the level of a league MVP?
Yet head coach Aaron Garcia, upon joining the franchise, drafted heavily on the defensive side of the ball and brought in players who embodied the hard-nosed, feisty team he envisioned. It is worth noting that Garcia's boldest and most controversial move – handpicking journeyman Raterink to be his quarterback – has far and away paid the biggest dividends and looked like pure genius. Garcia and Raterink played together last year for an L.A. KISS team that finished 3-15. Raterink endured his worst season as a pro and his stock dramatically sank. Yet there was Garcia lobbying to lure Raterink to Las Vegas, believing in the veteran signal-caller when few others did.
"During the off-season I almost had to defend my decision to bring JJ in," Garcia conceded. "The best counter-argument that I had to defend my decision to bring in JJ is that I was terrible in LA last year,too. And I've been pretty decent in my (AFL Hall of Fame) career. So I knew there were a lot of outside problems that contributed to JJ's performance last year.
"I also knew how good JJ was when he played in Iowa (and eclipsed Kurt Warner's passing records). I think JJ is a very good AFL quarterback who has the potential to be great. And it's starting to show."
Indeed, Raterink's numbers thus far rank among the league's crème de la crème. Through three games the University of Wyoming graduate has accounted for 777 yards of total offense and 20 touchdowns (second in the AFL). He stands ninth in the league in rushing and leads the second-highest scoring attack in the league.
And get this: Raterink played two games minus the services of arguably his best target, big-play wide receiver Tysson Poots. In Poots' absence Raterink has spread the ball around nicely and not missed a beat. During last month's game against the KISS (a 61-48 Outlaws victory), Raterink hit Gerald Young with a touchdown bomb early in the first quarter and went on to throw multiple touchdown passes to Doug Williams, Jomo Wilson and Clint Solomon – and also had a 15-yard toss to 305-pound offensive lineman Terrance Campbell.
"We've had really good chemistry and we've been mixing up the receivers," Raterink said. "To see our guys acclimate and adjust so quickly only three weeks into the season is really positive."
While Gerald Young has mesmerized with his speed and record-setting special teams touchdowns, and Jomo Wilson has been a touchdown machine, the aforementioned Williams had been cut during training camp. The 6'4" Williams rejoined the team prior to the KISS game and led all Outlaws receivers with 101 yards.
"That's one of the reasons we were very excited to get Tysson from Arizona because he came from a system with a team mentality – where all of the receivers have a role," said coach Garcia. "It was never about just any one receiver. When we put our team together that's what we wanted to accomplish."
The Outlaws so-called "POCO" offense is unique and the only of its kind in the league. It essentially means that Raterink's receivers are encouraged to improvise on the fly; they can run either inside posts or outside towards the corner. Before snapping the football, even Raterink doesn't know which of the routes his receivers will run – requiring him to make excellent reads and for his offensive lineman to provide stellar protection.
"Being spontaneous makes it harder for the defense to defend," Garcia said. "The key is protection from the offensive line. Because there is a lot of uncertainty built into our offense. So far early in the season our offensive line has played excellently and given JJ an extra split second to make a decision, which is longer than he might have had last year playing for LA."
Q & A profile of UFC legend Randy "The Natural" Couture and his affinity for hunting. Story for Predator Nation magazine.
Arena Football League Week 2 Recap: Outlaws, 19-Point Underdogs, Stun Defending Champs With 70-53 Win
By Frank Forza Curreri
LAS VEGAS, Nev. – A team was predicted to get blown out at Thomas & Mack arena Saturday night.
Somebody forgot to tell the Las Vegas Outlaws it was them.
The first-year franchise had entered the contest as 19-point underdogs to Arizona yet pounded the three-time defending champs in a heated contest that featured four unsportsmanlike penalties. The amped-up Outlaws were buoyed by near-flawless play from quarterback J.J. Raterink, big plays from their veteran defense, and two hair-raising touchdown returns by Gerald Young that set the crowd into a collective frenzy.
It was a terrible game for Rattlers kicker Jeremy Shelley, who missed two extra points and two field goals. Both field goal misses proved to be huge blows to the Rattlers as Young, the beneficiary of Shelley's misery, scooped up the football and bolted for separate 52- and 54-yard touchdown runs that could easily merit a spot on ESPN's Top 10 plays of tonight. Young's 54-yard scamper early in the fourth quarter stretched the Outlaws lead to 56-47.
In the first-ever meeting between division rivals, Young proved the difference-maker. His scintillating gallop as time expired in the first half gave the feisty Outlaws their first lead of the game, 35-34, a lead they would never relinquish.
The unlikely win, which caused Outlaws owner Vince Neil to repeatedly break into dance and high-five anyone in sight, showed the team of thrown-together veterans are quickly buying into head coach Aaron Garcia's 'Win Now' philosophy.
"Coach just said before the game, 'To get to where we want to be … we're going to have beat the top teams. So we have to beat them because they are where we want to be,'" said Outlaws quarterback J.J. Raterink, who finished the game with 5 touchdowns and 201 yards passing despite his most explosive playmaker, former Arizona wide receiver Tysson Poots, sitting out the game due to injury.
All the way up until the game's final minute you couldn't resist feeling that the Rattlers and reigning league MVP Nick Davila were going to mount a rally and somehow kill the Outlaws fairy tale victory. But the Outlaws repeatedly did just enough to tame the three-headed monster of Davila, 6'7" receiver Markee White (who scorched the Outlaws for 5 touchdowns) and 275-pound fullback Mykel Benson, who finished with 58 total yards and rumbled for two touchdowns.
Collection of stories Frank wrote for the AFL Las Vegas Outlaws event magazine.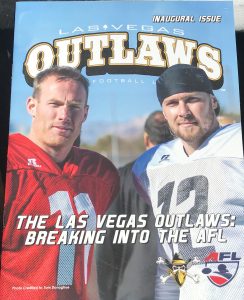 Interview with Aaron Garcia: "The Brett Favre of the Arena Football League" (AFL) and the only AFL player to never play in the NFL yet still be inducted into the NFL Hall of Fame: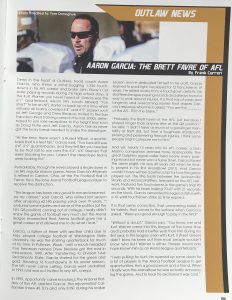 "The Dangling Carrot for many Arena Football League Players"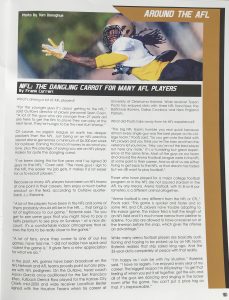 SCOOP: BYU and officials from Utah's second-biggest city explore jointly funding and building a stadium.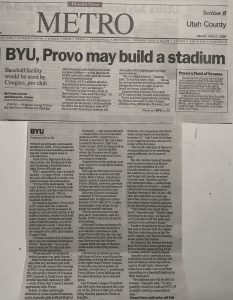 SCOOP: Broke the story about Utah's second-largest city negotiating with an affiliate of Major League Baseball's Milwaukee Brewers to relocate the rookie league franchise to Provo. Wrote a series of stories and traveled with a colleague to Helena, Mont., to get locals' sentiments about what the Helena Brewers mean to their charming city of roughly 28,000. Best of all: Confirmed that if the "Brewers" — thusly named in honor of beer — move to predominantly teetotaling Provo then fans can expect a logo and name change!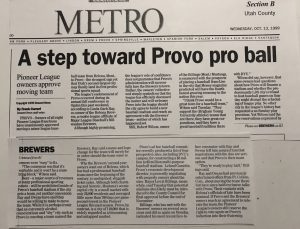 Ian Loveland: "Big Fish In The Big Time": fun feature story for UFC.com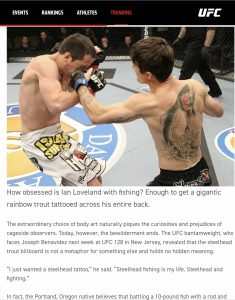 https://www.ufc.com/news/ian-loveland-big-fish-big-time
"The Death of Lil' Evil & The Resurrection of Jens Pulver" (feature story originally posted on UFC.com):
http://frankcurreri.com/death-lil-evil-resurrection-jens-pulver/
"The Cemetery Life: Richard Abraham and the Power of 'Here Lies An Unknown Soldier""
Story link: https://www.frankieforza.com/cemetery-life-richard-abrahams-power-lies-unknown-soldier/
VIDEO INTERVIEWS & COMMENTARY: 
Link to watch:
https://www.dropbox.com/s/ycq0j6731o5wric/CoutureEarsAge.MOV?dl=0
Emotional interview with MMA fighter David Branch, a New Yorker and former iron worker, after finally winning a world title. 
https://youtu.be/GqwSiQAVvf0
One-on-one with hilarious former UFC champion, former police officer and two-time New York Times best-selling author Forrest Griffin:
What is the most serious injury you've ever had? Inside the mind of former Cirque du Soleil performer Alvin Tam.
Inside the 'Go for Broke' Mindset of UFC Champion Miesha Tate
(WARNI: This conversation with Miesha Tate contains explicit language and is solely intended for adults age 18 and older).
Las Vegas trainer extraordinaire Clark Anderson (52 years young) and myself have a conversation about how to defy Father Time, especially trying to defeat that voice in your head that says, "You're too old for ____…. your best years have passed you by." 
PODCAST: Dr. Brooke Conway Kleven, a 28-year-old physical therapist and mother of two, talks with me about dual doctorates, mental toughness and surviving three brain surgeries 
https://open.spotify.com/episode/326cwEtevyIMfIwJWmnCKw
Fight Analysis: Four big mistakes that led to star fighter Sage Northcutt's shocking and dramatic loss vs. Cosmo Alexandre. 
https://youtu.be/m8KCNcI39jQ
ENTERPRISE FEATURE STORIES: 
"Twin Brother's Rare Disease Lights A Fire in Jake Ellenberger" (feature story for UFC.com):
https://www.ufc.com/news/twins-disease-fuels-ellenberger
The two biggest names in fight sport announcing, Michael and Bruce Buffer, lived for decades not knowing they were brothers. Frank wrote this exclusive about the day Bruce Buffer discovered, 'That guy on TV is my brother!'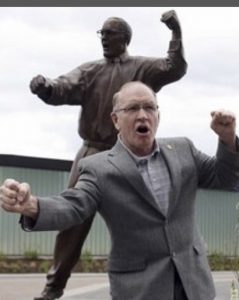 "Athletes & ACL Tears: Fully Recovery The New Normal" (byline for UFC.com):
https://www.ufcespanol.com/news/new-norm-acl-tears-gsp-rebounded-expect-same-cruz
DEADLINE/LIVE EVENT STORY: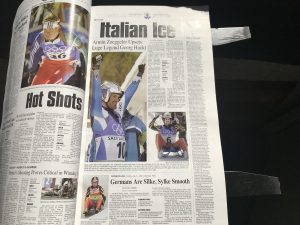 WEC live Deadline Event Story: "Varner Retains Lightweight Title But Leaves Door Open for Cerrone Rematch (byline for WEC.com & UFC.com)
https://ru.ufc.com/news/varner-retains-lightweight-crown-leaves-door-open-cerrone-rematch
Deadline WEC 44 live event story: Jose Aldo Dethrones Mike Brown (story ran on UFC.com)
https://www.ufc.com/news/and-new-aldo-dethrones-brown-wec-44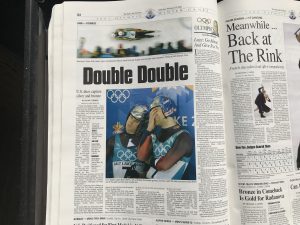 COLUMN: "Hail To Chael" after epic first fight vs. Anderson Silva (post-event column for UFC.com):
https://www.ufc.com/news/hail-chael