(This story was originally published in RealFighter Magazine)
By Frank Curreri Forza
The name, though it is legendary, is seldom spoken in MMA circles. And at first glance, the slight seems justified. After all, what has Dan Gable ever contributed to the sport's explosion or talent pool?
Iowa's most favored son has never prepped someone for a pro fight or walked them into the ring on match night. He cannot describe what a Kimura lock or triangle choke is. And though a casual fan of the Ultimate Fighting Championship, he still seems amazed by some of the more mundane aspects of MMA, such as the fact that combatants dare to fight on their backs and are often comfortable doing so. 
But as it turns out, the famed American wrestler has impacted MMA a lot more than many people think. The list of well-known fighters and trainers who have studied under Gable reads like a Who's Who of MMA stars. The distinguished crop of proteges includes: Mark Coleman, Mark Kerr, Tom Erickson, Rico Chiapparelli and Pat Miletich.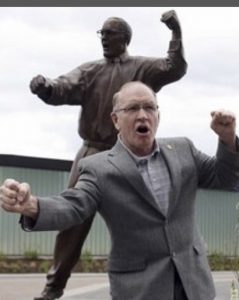 Over the past few decades Gable has almost single-handedly raised the bar for U.S. freestyle wrestling – a hard-nosed sport that has proved to be a fertile breeding ground for future MMA stars.
Pick any fighter in MMA today with wrestling as his original foundation and chances are good that he – like UFC welterweight champion Matt Hughes – grew up idolizing and trying to imitate Gable. Many MMA purists may scoff at suggestions of a Gable imprint on their sport, but former Gable apprentices argue to the contrary.
"If there's one contribution to MMA, it's that Gable taught me wrestling and conditioning and I carried a lot of that over to MMA," Chiapparelli, one of 45 national champions Gable coached at the University of Iowa, said recently during a phone interview from the R1 gym near Los Angeles.
"I got Randy Couture started (in the sport), I got (Dan) Henderson started and Matt Linland. Miletech– he idolizes Gable, too. He's trained with wrestlers at Iowa and he trains guys that are arguably the best in America. So from that seed (Gable), everything grows."
It is striking to hear Gable's disciples praise him and respond to the question, "What did Gable teach you that most helped your success or your team's success in MMA?"
Rather than laud the expert grappling techniques and punishing brutality that Gable taught, they instead rave about the conditioning and motivational genius he impressed upon them.
"Dan Gable's work ethic carries through me into my guys. He's had a huge impact on me and my guys," said Miletich, survivor of many hellish practices with Hawkeye wrestlers. "Guys are screaming and crying and miserable (in training) and that's what makes you a champion– just knowing that you've outworked your opponent.
"One saying of Dan Gable's that always stayed with me: 'It's human tendency to look for an easy way of doing things, but there's no substitute for hard work.' Hard work alone is the key ingredient that makes a champion. In this sport, I've seen a lot of guys that had a lot of athleticism and God-given ability, but they didn't have the work ethic to be a champion."
It seems a simple philosophy, but Gable obviously did a better job wrapping his own psyche around it and selling it to his athletes than anyone else.
Gable's single-minded obsession with winning, which borders on maniacal, fueled him to win all but one of his 183 matches as a high school and collegiate grappler. He claimed two NCAA titles at Iowa State (athletes at the time were forced to redshirt as Freshmen), and then shut out six opponents en route to gold at the 1972 Olympic Games.
He later assured that his name will be mentioned whenever there is a "greatest American coaches ever" debate, leading the Iowa Hawkeyes to a mind-boggling 15 national team titles in 21 years before stepping aside at the end of the 1997 season.
Today, on those rare occasions when he is not immersed in wrestling matters or delighting in time spent with his grandkids, the 57-year-old legend settles in front of a television to watch a UFC broadcast. Quite naturally, he roots for those who have wrestling backgrounds, and counts Matt Hughes and recent retiree Couture among his favorites.
"From the outside, Ultimate Fighting, it looks dangerous," Gable remarked before pondering what might have been if he were 30 years younger or MMA had flourished three decades sooner. "I don't know if I could do that. You know why? I don't know if I'm prepared, even in the old days. I did grow up doing some boxing, but I'm just so focused on my narrow scope, which is wrestling. I trained to fight a wrestling match. But I haven't trained to fight anybody who is a specialist in fighting."
He says all of this in a deep 'Man's Man' voice that befits his drill sergeant-like, no-nonsense demeanor. Even on the other end of the phone line, Gable's trademark intensity and tenacity are apparent.
So long as the conversation is wrestling, he is as energetic and tireless as he once was on the mat, talking at a fast pace and flexing a swift memory that seems encyclopedic. Change the topic, however, and Gable's speech slows considerably and he suddenly seems bored.
In between portraits of the passionate and passive Gable, a singular theme emerges: The longer Gable talks, the more the word "preparation" surfaces again and again. But Gable's idea of being prepared is ultra-extreme, as he exemplified while a graduate student.
Years ago, having completed all of the necessary course work for a master's degree in student counseling, Gable was a final exam away from sealing the deal. He was in good academic standing, having earned A's and B's in his classes. Then he received his lowest grade yet in a class – a 'C'. The mediocre score spooked Gable, as did a question he knew would be on the final exam that required him to choose among a collection of theories he found unappealing.
"I thought, 'How am I going go in and pass this comprehensive exam when I just didn't feel prepared," Gable explained. "I just didn't feel prepared, so I didn't go."
By skipping the final exam, Gable forfeited the master's degree.
He later had a chance encounter with the professor who had administered the test. "Everybody passes," the professor confided, though much too late to reverse Gable's academic misfortune.
To this day, Gable still has never earned that Master's Degree.
Minus the degree, somewhat ironically, Gable has been hailed as an expert sports psychologist and shared his winning formula with many Fortune 500 companies.
He said it was preparation, or lack thereof, that kept him from being in the corner of Royce Alger when Alger fought in the UFC in the late 1990s. Alger, a two-time NCAA champ for Iowa, posted an MMA record of 3 wins and 2 losses. Only one of his matches lasted more than five minutes.
"Royce Alger, he did it for the money," Gable said. "Had he gotten into the sport more, had he trained more … He basically stopped training and just entered those events. Most of the time, if he got into those fights, he gassed. It made me mad."
It doesn't take much to stoke Gable's fire. Even in the hours after his team had claimed a national title, Gable was sometimes bummed out on the plane ride home because a highly-seeded wrestler of his had been upset. He is widely regarded as America's best freestyle wrestler ever, with nothing left to prove, but admits to still being haunted by his NCAA finals loss to Larry Owings nearly 36 years ago.
Indeed, Gable's deep paranoia about losing seems to have inspired his notoriously grueling practices, which would exhaust and redefine pain for any mere mortal. In Gable's mind, conditioning is paramount because it is the one area over which a wrestler or fighter wields the most control.
A hallmark of Gable practices is that, like a fight, they are often intentionally unpredictable. Wrestlers take the mat and have no idea what to expect. Gable might start things off with a five-minute speech or, if the team is rebounding from a loss, they could be on the receiving end of a one-hour "business meeting" as Gable likes to call it. The next phase might feature 13 minutes or so of light jogging, stretching and tumbling, followed by techniques and drilling. Then there is another warm-up, more drilling and then the highlight of the practice: 50 minutes of all-out "combat" as Gable insists it be called. 
The more entertained Gable is by a particular battle at practice, the more inclined he is to just let the timer keep going and keep his wrestlers suffering.
Sometimes that meant 20-minutes of consecutive wrestling without a rest – par for the course in jiu-jitsu circles, but an eternity for faster-paced wrestling matches that feature significantly more stand-up action and fast-twitch explosiveness.
When exhausted athletes reached what they thought was their breaking point, Gable often threw more curveballs at them.
Time for some rope-climbing exercises or quarter-mile sprints, he would tell them.
Just when his wrestlers thought they had run the final sprint of the day, Gable would implore them to run yet another sprint. When they complied, thinking the end of practice was upon them, Gable would play the same mind trick once more.
"I'm thinking, 'Wow! I did the job today! I would drain every ounce out of them," Gable said, drawing pleasure from such feats. "They gave their maximum and felt they had nothing more to give. And I still got another 10 minutes out of them!"
It was not uncommon, recalls Team Miletich fighter and former Hawkeye wrestler Ben Uker, for Iowa wrestlers to trade elbows while posturing and trying to win those wind sprints. Occasionally, fisticuffs would erupt on the mat. Some guys vomited in a trash can; others cried in the locker room because they had been dominated on a given day.
Gable remembers times when wrestlers, pushed to the brink, have stood in his face, raised their dukes and challenged him to a brawl.
No one ever swung.
"Ninety-nine percent of the time they would come over and apologize" later, Gable said. "I would say, 'Hey, just doing my job. Just pushing you to another level and trying to get something out of you.'"
He didn't foresee that so many former students would gravitate toward MMA, but accepts their exodus, equating them with struggling farmers who need to find other work to pay the bills.
Gable concedes there was a time where he was truly an "Anytime, Anywhere, Anyplace" kind of guy when it came to wrestling. Though well aware of the limitations of his beloved sport, he possessed all of the essentials for becoming a champion MMA fighter had he desired to cross-train.
"He would have been scary," Miletich said.
A young 150-pound Gable routinely licked every wrestler in the room—including nationally ranked heavyweights. Such conquests by an undersized grappler, common in jiu-jitsu, are considered far more difficult in wrestling and boxing, where the power and weight advantages are harder to overcome.
"At one time in my life, when I was competing, I didn't feel like anybody could beat me up," Gable said. "I felt like I was safe except for bullets and knives. I didn't care how big the guy was … I don't know what would have triggered me (to fight). I wasn't one to back down from something."
Gable, who will return to the sidelines at Iowa as an assistant coach this fall, is not lobbying to become a footnote in MMA history. He is content to remain but a virtual whisper on the MMA landscape.
But somewhere, in some MMA training camp, the mental toughness that Gable espoused and perfected is still being passed along. Someone is embracing his call to be the first to arrive at practice, the hardest worker, and the last to leave. Someone is repulsed by the prospect of second place. Someone is adamant that they make their own breaks in the ring and don't leave the outcome up to the judges. Some young fighter is embracing that all-out ethos, The Gable Way, that may never go out of style.