BJJ black belts Robert Drysdale and Frank Curreri Forza team up once again to produce a fast-moving, thought-provoking LIFEJITSU podcast tackling a wide range of issues.
You can listen at iTunes:
https://itunes.apple.com/us/podcast/lifejitsu-art-of-life/id1370299516?mt=2&i=1000418795954
You can also listen to the tw0-hour, two-part podcast on the Anchor app.
Topics discussed include:
What's the best age to start kids in jiu jitsu and how hard should you push them?
Robert Drysdale names the most talented jiu jitsueiro No one's Ever Heard Of;
Drysdale: "We're living in the Age of Marketing …" Great Marketing > A Great Competition Resume;
What Airports Can Teach Us About Human Psychology: 
Drysdale talks admiration for a Jiu Jitsu star who dropped to his knees and cried as if a relative had died — because his brother lost a match;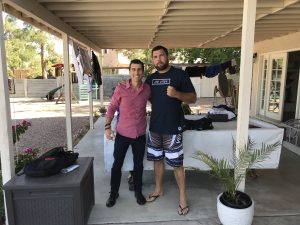 What's the one thing all great MMA fighters have in common? Frank Forza shares an unforgettable and compelling insight from one of MMA's top managers (Minute 28);
When kids cry on the mats — and why it is sometimes a super positive sign;
Drysdale talks ' The two days I felt like a God' … (Minute 31) ;
Robert shares a profound story that FRANK MIR recently told him involving two fisherman — a parable of sorts that makes us rethink who's smarter … the person who needs a $1 billion to be happy or the person who's happy with $100 in their pocket?
Robert offers love advice and the odds that he — twice married to BJJ black belts and twice divorced from BJJ black belts — will marry a THIRD Bjj black belt!;
— Robert talks nicknames in Brazil: "If someone refers to you by your real name in Brazil — they don't like you! There's no such thing as political correctness in Brazil." 
Instructor's Dilemma: Lay it on the line in live practice rolls and/or competition (and risk credibility if you're beaten regularly in class) or Hide Behind Your Black Belt and seldom compete (Minute 40)?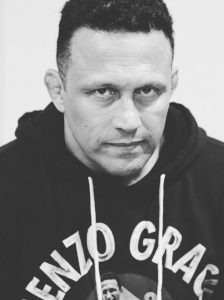 Robert discusses interviewing Renzo Gracie's father (like his son also an incredibly colorful character) and talks about the Renzo he knows.