If you're a classic overeater like me Here's Your Huckleberry: Introducing one of the world's healthiest and tastiest 'Pho soups, recently whipped up in 20 minutes at Casa de Forza.
With this fantastic and flavorful and noodle-free "Pho" (which the Vietnamese pronounce "fuh"), you don't have to worry about eating too much. You also need not worry about nasty unrefined carb noodles sticking to you — and the chemicals that collect in your body from that processed and typically dirty carb.
Because for all intensive purposes — with the exception of Carbohydrates inherit in the Fiber of the broccoli — yes, super-valuable fiber technically qualifies as a carb) — a giant bowl of Forza Pho, even with a heaping teaspoon of healthy Ghee Butter fat, still packs less than 150 calories. So even if you've got a hefty appetite and lack discipline at the dinner table, even if you went for a second bowl, you're talking about a warm, nutrient-dense delicacy that hits the spot and fills you up.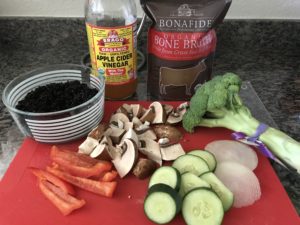 INGREDIENTS: 
Grass Fed organic Bone Broth (beef) (I cook to boiling then let cool a touch);
Sautéed mushrooms (add into hot bone broth);
Onion (addicted to them, can eat them like I eat an apple!);
Steamed broccoli (I like to steam broccoli 15-20 minutes over a medium-high heat, covered, and when finished add to the bone broth;
Not pictured: I also added some organic spinach into the Pho, since it's so nutrient dense and rich with Magnesium, which is huge for heart and cardiovascular health
PIC OF THE FORZA PHO plus side dish: 
Note: I also added Himalayan Sea Salt, cayenne pepper, oregano and ghee butter to the Forza Pho.
Also: Bone broth is great to boost testosterone NATURALLY — and both men and women benefit from testosterone.
FINAL THOUGHTS: 
My raw vegan friends might criticize me for the beef bone broth, and the fact that many of the veggies in this soup have been heated — meaning they're not raw and have lost some nutrients during the heating process.
I should note — other than bone broth, I eat meat sparingly, maybe once every two or three weeks, sometimes much longer.
Raw fruits and veggies are almost always better and more nutritious but again, the goal of any Nutrition Program is sustainability and MAKING IT A LIFESTYLE. If you don't enjoy food then you're eventually going to tapout and rebel against that Nutrition Plan.
With this heart-friendly, keto-friendly reimagining of Pho, you've got a power-packed, hydrationally super-powered dish that you can really look forward to, one that fills you up but requires very little energy to digest so insulin levels stay very stable.
Incorporate this delicious, game-changing soup into your weekly eating and watch it kill cravings and elevate performance!